After years of promoting the Zoomer Philosophy, I've had an epiphany. I'm now living it! This year, I turn 50. If fifty is an iconic moment of passage in popular culture, as Moses Znaimer writes in Chapter 50 of the Zoomer Philosophy, then it's a year for reflection, taking stock and looking forward. The past 50 years have not been without personal challenges, difficulties and regret. The thing is, my experiences are fairly common for women of my generation.
I came to Toronto to pursue a degree in Radio and Television Arts, oozing with confidence as a liberated woman. My best friend and I referred to ourselves as "women of the 80's". We had big hair, wore big shoulder pads and felt we would have a big impact on the radio and television industry. Longtime radio announcers told me I would have to leave Toronto to begin making my career. I didn't buy this, and after graduation, promptly landed a job as a young reporter at a Toronto based radio network. My career rolled along with regular salary increases as I moved from one Toronto radio station to another.
I married my university boyfriend and had two children. For any number of reasons, the marriage ended. I'm not alone. The most recent data from the Vanier Institute of the Family suggests 4 in 10 marriages in Canada end in divorce. At 40, I was discouraged. I sat by myself watching far too many re-runs of "Sex and the City" while drinking white wine and eating bags of licorice. But then, I met my true love. How does that Frank Sinatra song go? "Love is lovelier the second time around." Myron has changed my life. I enjoy a passionate and mature love with him that grows deeper and at times, more complicated. We merged our families. No easy task as other step-parents will attest. Blended families are on the rise as part of the new Canadian landscape. According to Statistics Canada, there were 464,335 stepfamilies in 2011, accounting for 12.6 percent of the nearly 3.7 million couple families with children. I love my stepsons, Matt and Nick, not as my own, but with the admiration of a supportive adult. My children, Jacob and Jamie Lee, are my connection to the future. The love I have for them is indefinable. Their successes, challenges and failures affect me more than my own achievements and failures. This is parenthood.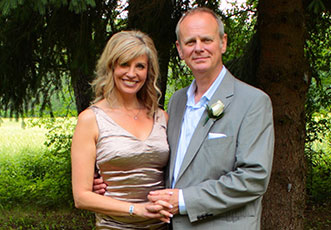 Like many of my generation, I lost my job in the 2009 recession. At the top of the pay scale then, it wasn't entirely a surprise that I was let go and was replaced by younger and cheaper talent. Determined not to stay on the sidelines for long, I landed an associate news director position with MZ Media where I continue to enjoy a new set of challenges. Radio has been the one constant my entire adult life and I am grateful for how it has enriched my life. I plan to keep working well beyond traditional retirement age. Most Zoomers feel the same way. A 2015 HSBC Bank survey reveals that 45 percent of working age people in Canada plan to semi-retire before they stop working, while 15 percent expect that they will never fully retire.
So what's in the plans for the next 50 years? My intention is to reach 100. It's no longer an unattainable milestone. Centenarians were the second largest growing demographic in Canada between 2006 and 2011, next to the 60 to 64 age group. Longevity also runs in my family with the exception of my dear mother, who passed away from cancer at 68 in 2012. Two of my four grandparents lived to be nearly 90 and my fraternal grandmother was 98 when she died. My father; he is the epitome of youth at 73. I should be so lucky to have his enthusiasm and passion for life at the same age, but I am determined.