Gravity won the most statuettes at the Academy Awards last night. But 12 Years a Slave took the big prize.
Steve McQueen's highly-acclaimed slave drama became the first movie directed by a black filmmaker to win Best Picture. Lupita Nyong'o also won Best Supporting Actress in her film debut. And writer John Ridley won screenplay adaptation.
Gravity won seven awards, including Best Director for Alfonso Cuaron.
Jared Leto gave an emotional tribute when we won Best Supporting Actor Award for his role as a transgendered woman in "Dallas Buyer's Club." He thanked his mother for her support, and dedicated the Oscar to "the 36,000,000 people who have lost the battle to AIDS," and to those who have "felt injustice because of who you are and who you love."
Matthew McConaughey won Best Actor for Dallas Buyer's Club. And Cate Blanchett took Best Actress for Blue Jasmine.
Several Canadians won technical awards. Prime Minister Stephen Harper tweeted his congratulations to them, and to Montreal filmmaker Jean-Marc Vallee who directed Dallas Buyer's Club.
It was a disappointing night for American Hustle. It was nominated in ten categories, including all the top ones, but was completely shut out.
Ellen DeGeneres opened the show with a shot at Hollywood's tendency to narcissism. She said, "It has been tough couple of days for us here. It has been raining. We're okay. Thank you for your prayers."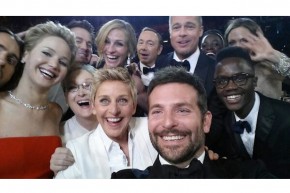 She also took a selfie of herself with some of the biggest names in Hollywood and posted it on twitter. It was re-tweeted 2.5-million times and crashed the twitter system.