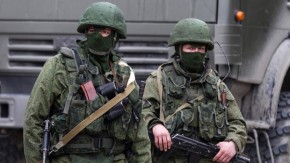 Tensions are escalating in Ukraine, where pro-Russian troops have taken over a ferry terminal on the easternmost tip of Crimea.  The terminal serves as a common departure point for many Russian-bound ships.  This latest move has exacerbated fears that Moscow is planning to bring more troops into this strategic Black Sea region, as the West debates how to react to the incursions.  Soldiers believed to be Russian have occupied airports in Crimea, smashed equipment at an air base and have stormed a Ukrainian infantry base in the Crimean peninsula.
Canada's Foreign Affairs Minister has ruled out military action by Canada against Russia.  John Baird is joining fellow G7 members in using increasingly tough language to denounce Russia's provocation.  "Prime Minister Harper and I will continue to be in close contact with allies in the coming hours and days to develop a coordinated path forward if Russia continues to flagrantly disregard united calls of the international community."
Baird calls it "old Soviet style"aggression.  Russian President Vladimir Putin claims he sent in troops to protect Moscow's interests in Ukraine.  But Baird says such claims are "absurd and ridiculous."  Canada is withdrawing its ambassador from Russia and is considering economic sanctions.  NATO's secretary-general says the alliance is also re-evaluating its relationship with Russia.