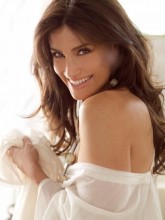 It has been an eventful week for Broadway star Idina Menzel.
The Tony award-winning original star of Wicked became a media sensation after singing Let it Go — the hit song from the animated feature Frozen — on the Academy Awards Sunday night, and having her name butchered by John Travolta [click on the audio bar to hear Travolta's miserable attempt].
Travolta has said he's been beating himself up over the mistake but in a statement, says Menzel would tell him to "Let it Go."
Menzel has other things to focus on. She starts previews in a new show on Broadway tonight. She's starring in If/Then as a woman starting a new life in New York. The musical is written by Tom Kitt and Brian Yorkey, who won both the Tony Award and the Pulitzer Prize for Next to Normal.