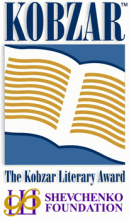 The crisis in Ukraine was top of mind for those who attended last night's Kobzar Literary Award gala here in Toronto.
Once every two years, a Canadian writer who most effectively presents a Ukrainian Canadian theme through poetry, drama, fiction, non fiction or young people's literature is presented the prize which comes with $25,000.  You can read more about the Kobzar Literary Award by clicking here.
The event was held at the Palais Royale on the Lakeshore.  Zoomer Media's Andy Johnson was there.  Listen to his report by clicking on the left square on the audio player below.