Another Canadian is celebrating today!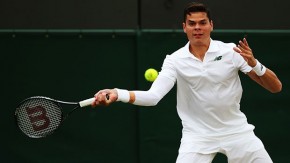 Number 8 seed Milos Raonic won his round of 16 match against 10th seed Kei Nishikori at Wimbledon this morning.
After losing the first set, 23 year old Raonic stormed back for a 4-6, 6-1, 7-6, 6-3 victory.
He becomes the first Canadian men's singles player in the Open era to reach the Wimbledon quarter-finals.
Raonic will next play Australian Nick Kyrgios who had an upset win over number 2 seed Rafael Nadal.