Christine Elliott is the overwhelming choice to lead the Ontario Progressive Conservatives.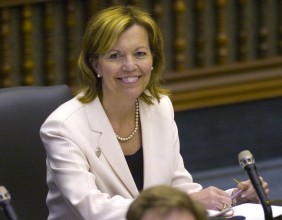 That's the conclusion of a new survey by Forum Research. It asked about 1,000 Ontario residents for their response to a number of questions about the five declared candidates, including who would make the best leader, who was most like-able, and who would have the best chance of winning the next election.
In all cases, Elliott was chosen more often than all the other four candidates combined.
Some supporters of her rivals dismiss the results, saying the only votes that matter are from party members. But Forum President Lorne Bozinoff says delegates will be looking at the ability to win the next election, so these results are important. He also points out that the Conservatives can't win without the Toronto area, and Elliott is the only candidate with a seat in the GTA.
The Conservatives will choose a new leader in May.