One of Michaelangelo's most famous works is under threat from earthquakes.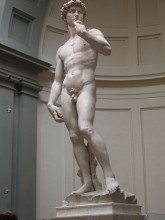 The statue of David is located in Florence. The region has been hit by more than 200 tiny quakes in the past three days. A study of the statue earlier this year found micro-fractures in David's legs. It's feared that repeated shaking could ultimately cause the famous statue to break.
So officials are going to build a new plinth that is resistant to tremors. It's expected to cost about $285,000.
The new protecting platform will be in place within a year.