The 21-st annual Screen Actors Guild Award will include a mother-and-daughter affair.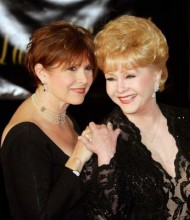 That's Carrie Fisher singing with her mother, Debbie Reynolds, on the Oprah Winfrey Show.
Carrie will present her mother with SAG's Lifetime Achievement Award later this month. The union's highest accolade is presented to an actor who embodies "the finest ideals of the acting profession."
Debbie Reynolds' first starring role was in the legendary Singing in the Rain opposite Gene Kelly in 1952. Since then she has appeared in dozens of film and television roles, including an Oscar-nominated performance in The Unsinkable Molly Brown.
She also received a Tony nomination for her starring performance in Irene on Broadway in 1973.
The 82-year-old joins a list of lifetime achievement winners that includes Sidney Poiter, Kirk Douglas, Angela Lansbury, Robert Redford, and James Earl Jones.