The CBC's Amanda Lang is denying allegations that she tried to sabotage a significant story on RBC and temporary foreign workers because she appears to have ties to Canada's biggest bank.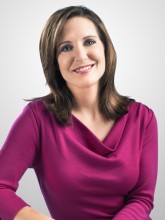 A report yesterday says the public broadcaster's senior business correspondent lobbied aggressively within the CBC in April of 2013 to undermine the reporting of investigative journalist Kathy Tomlinson on the growing labour controversy at RBC.
The report highlights that Lang was romantically involved at the time with RBC board member Geoffrey Beattie.
Lang told the Toronto Star she is specifically denying that she tried to kill the story, that she was hiding a potential conflict of interest and that she received money from RBC for speaking engagements.