John Tory says the idea's to try not having too many things going on all at the same time – or weekend.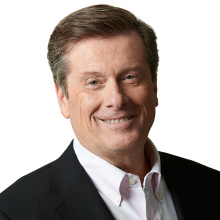 The mayor emerged from the second road closures coordination committee meeting to say four or five events will be moved this summer to accommodate other events like the Pan Am / Parapan Games or closures of the Gardiner, DVP or TTC.
Tory's also requested city staff to look at how the annual weekend maintenance closures of the Gardiner and DVP can be shortened as much as possible.
In addition, he's asking the province to make some changes to traffic plans surrounding this summer's Pan Am/Parapan Games.
The mayor wants some lanes on the Gardiner and DVP to be closed for just one week ahead of the games for education … not two as the province is currently planning.
Tory would also like vehicles with two … not a minimum three people to use the temporary H-O-V lanes.