"I'm just lucky to be alive today and I'm just lucky to be getting another chance at life."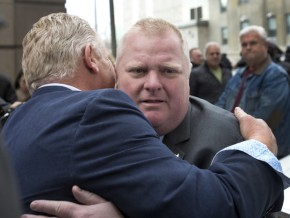 A relieved Rob Ford after meeting this afternoon with his medical team which decided the tumour in his abdomen had shrunk enough to operate Monday May 11.
"I'm feeling great.  I'm feeling a lot better than I felt this morning.  At least I know what's going on now."
Ford says four surgeons will take part in the operation that could last eight to 10 hours.
The city councillor adds he'll remain in hospital 10 to 14 days and then be "out of commission" about four months.
"I've just got to do a lot of work, try to take care of as many people before May 11 because after, this summer, I won't be able to do too much.  I'm pretty well writing off the summer." 
Ford's aiming to return to work September 1.
As for his prognosis, he says the doctors are optimistic.