Outside the Ottawa courthouse, a crush of reporters greeted suspended senator Mike Duffy, with questions he did not answer.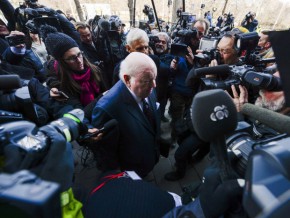 Inside, the 68-year old former journalist formally pleaded not guilty to all 31 charges of fraud, breach of trust and bribery, including an expense claim for a trip to Peterborough to visit former MP Dean Del Mastro.
The deputy crown alleges the two went to a dog show and bought a puppy.
The charges relate to Duffy's expense claims and a payment of $90,000 he accepted from the prime minister's former chief of staff to help pay back those claims.
Globe and Mail columnist Jane Taber tells the New AM 740's Goldhawk Fights Back, Duffy's not the only one on trial.
"It's the Prime Minister, Stephen Harper's PMO that is also on trial throughout this … The timing is also very important.  Is this something the public is going to be holding onto?  Will the public's mind be changed one way or another when it comes to voting?"
The trial is expected to run seven week in April and May, take a break, then resume for three weeks in June.
The federal election is scheduled for October.