The sentries who watch over the National War Memorial have returned to their post after last October's deadly attack, but they`re not alone.
Ottawa police officers are watching their backs.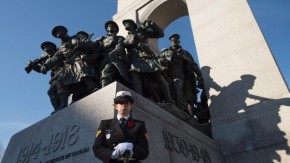 The Department of National Defence says it's paying about $425,000 through November because it does not have jurisdiction over the site.
There are also barriers around the sentries and the Tomb of the Unknown Soldier.
The move comes after last year's attack in which Michael Zehaf Bibeau shot reservist Nathan Cirillo, then burst into the Centre Block on Parliament Hill before he was killed.
The Canadian Army, Royal Canadian Air Force and Royal Canadian Navy rotate sentries throughout the year.