The day after the Maple Leafs major housecleaning, the team's boss says he does not have a new plan.
"The challenge here in Toronto is not to come up with THE plan.  The challenge in Toronto is to stick to it."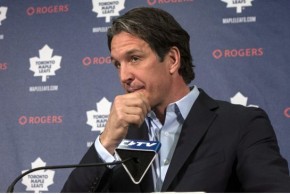 Leafs President Brendan Shanahan says the key to the club's improvement will be to stay the course.
"You have to have a stomach in order to get through it in a place with this much passion.  I have that stomach and I think everybody that is coming here, and I can tell you the board (of directors) does.  We've gotten excellent support from our board that this has to be done the right way.  This has to be built the correct way.  They understand that there are no shortcuts.  Shortcuts have gotten this organization in the trouble in the past and that this has to once and for all be a build that we are committed to and that we don't stray from."
Shanahan adds the team has an incredibly loyal, resilient fan base and that it needs to have an equally resilient group of players who love playing here.
"Think we've got some good pieces, but, we have some talented parts to this team.  But as a group, as a mix, I think that they've shown and they understand and accept that over the last several years, not just this year, for whatever reason the mix doesn't work.  And they understand that for that reason, inspite of the fact that we have talent individuals, if the mix doesn't work there's going to be changes."
Ideally, the Leafs president would like to have a general manager in place by the draft in June, but he's not opposed to hiring a coach first.