Two of Canada's greatest musicians are husband and wife, and for the first time have recorded together.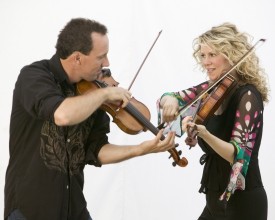 Fiddlers Natalie MacMaster and Donnell Leahy have a new album called ONE!  It was produced by the legendary Bob Ezrin, who's recorded the likes of Pink Floyd and Alice Cooper.
"He's so richly musical and honest.  He lets the music speak, no matter what style it is.  There's no force there at all, and he was awesome to work with, absolutely awesome!" Natalie told The New AM 740's Happy Gang.
Natalie and Donnell first met as teenagers and got married in 2002.  Eva D asked which of the two of them gets the final say.
"You don't have to ask that question," Donnell quipped, to which Eva D pressed, "Who wears the pants?"
Natalie's response, "no one wears the pants" got a big laugh since the couple has four daughters and two sons!
Natalie MacMaster and Donnell Leahy perform two shows tomorrow (Saturday April 18th) at Casino Rama.  There's more information on Natalie MacMaster's website.