Zoomer Radio News has confirmed Deputy chief Mark Saunders is about to succeed Bill Blair as Toronto's next police chief.
Saunders is a veteran officer who will become the first black leader of the country's largest municipal force.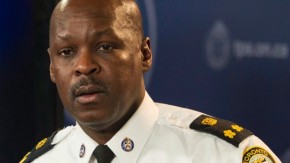 Saunders is 52 and is viewed as a cop's cop, having taken three decades to move through the ranks.  He has headed up some of the toughest squads within it, including the homicide division, drug and gang units and the emergency task force.  He is currently in charge of Specialized Operations Command, where he oversees 1200 police officers and 164 civilian members with a budget of $175-million.
Saunders had been a shortlisted candidate for chief, along with fellow Deputy Chiefs Peter Sloly and Michael Federico.
Margaret Parsons of the African Canadian Legal Clinic said last week she had concerns Saunders would not be as open to ending or limiting the controversial police practice of "carding" as Sloly.
In fact, when members of the Toronto police services board approved a new policy regarding carding last week over loud objections from many citizens, it was a strong indication that Saunders would get the nod over Sloly as the candidate to succeed Bill Blair.
Saunders has also been the unofficial preferred choice of the Toronto Police Association which represents the officers.
He is a father of four and on his third marriage. Saunders holds a Bachelor of Arts degree in Justice Studies from the University of Guelph.
His appointment will be made official this morning at 10 at a news conference at police headquarters to be attended by Mayor John Tory and board chair Alok Mukherjee.