The Raptors General Manager has been financially dinged again for swearing during a playoff rally.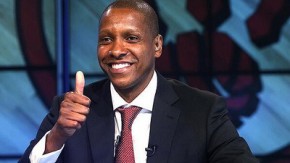 A year ago, Masai Ujiri was fined $25,000 by the NBA for dropping an 'F' bomb during a fan rally.  Yesterday, he was hit with a $35,000 penalty for saying at a similar kind of celebration, he didn't give a "sh*t" about it" in reference to a nasty statement made by Washington's Paul Pierce. about the Raptors.
As a result of the cussing, The Raptors organization was also hit with a $25,000 fine.
Ujiri promises to keep his language cleaner in the future.