One of NASA's most remarkable achievements marks its 25th anniversary this week.
The Hubble space telescope has made more than 1 million observations in the last quarter-century – including some of the farthest and oldest galaxies ever seen by humans.
The telescope has travelled 3.4 billion miles – and circled the Earth nearly 137,000 times.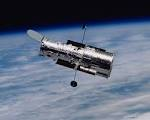 The amazing device was a full 10 years the making – and rocketed into orbit on April 24th, 1990, aboard the space shuttle "Discovery."
Astronauts from the shuttle visited the 350-mile-high observatory five times – to make improvements and repairs.
NASA is celebrating Friday's anniversary with ceremonies this week at the Smithsonian Institution and Museum in Washington.