As teachers in Durham region walk the picket lines a second straight day, another strike date has been set.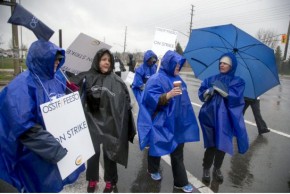 This time for high school teachers on the west side of the GTA.
The Peel District School Board will be hit by a strike May 4 if there's no deal with its local teachers' union.
A walkout by the board's 3,500 teachers would affect some 42,000 students.
Board Chair Janet McDougald says there are three days of talks scheduled before May 4 but with the announcement she will go to the board to see if it would be beneficial to accelerate the meetings and even add more dates.
Up to five more school boards could be hit by strikes if no local deals are reached, including Halton, Waterloo, Ottawa, Sudbury and Thunder Bay.