The model for Norman Rockwell's 1943 'Rosie the Riveter' painting, that symbolized the millions of American women who worked on the homefront during World War II has died.
Mary Doyle Keefe died following a brief illness.
She was 92.
Keefe grew up in Arlington, Vermont where she met Rockwell and posed for the painting when she was a 19-year old telephone operator.
It was on the cover of the Saturday Evening Post May 29, 1943.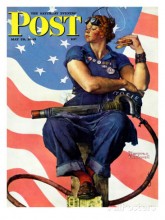 Although she was petite, she was depicted as having large arms and broad shoulders, sitting in overalls, a rivet gun on her lap and feet resting on an old copy of Adolf Hitler's manifesto "Mein Kampf".