Canada's doing more for the survivors and victims of the weekend earthquake in Nepal that's killed over 4,000 and injured 7,100.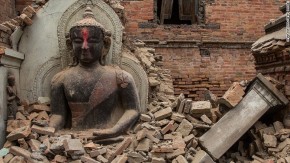 The Harper government's sending items like blankets, jerry cans and hygiene kits from emergency stockpiles in Mississauga and Dubai to help meet immediate needs.
The Conservatives also say they'll match dollar-for-dollar all donations made to the Nepal Earthquake Relief Fund until May 25, but retroactively to when donations first started coming in on the weekend.
That's in addition to the $5-million already pledged.
Over 40 Canadian Armed Forces personnel are aboard a plane en route to Nepal  – among them 18 assessment team members from the Disaster Assistance Response Team (DART).
They're expected to arrive by early Wednesday morning, though the timeline's in question because of damage at the airport in the capital, Kathmandu.
Canadians stranded in Nepal are critical of the government's response, saying there's been little to no contact.
But Foreign Affairs Minister Rob Nicholson says the honorary consul in Kathmandu and other consular officials have been told to work around the clock to get Canadians there the help they need.
Consular staff from India are also attempting to get into Kathmandu, but so far have been unsuccessful.