As U.S. National Guard troops are deployed in Baltimore in response to yesterday's rioting, President Obama says there's no excuse for the violence.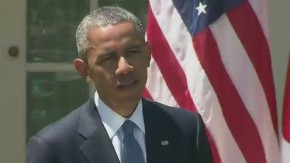 "They're not protesting.  They're not making a statement.   They're stealing," and for that reason Obama says they should be treated as criminals.
But the president points there have been too many troubling police interactions with black citizens across the U.S.
Something he calls a "slow rolling crisis".
Schools in Baltimore were closed since many teachers called in to say they wouldn't be at work.
The Orioles – White Sox game has been postponed a second straight night.
The teams will play tomorrow afternoon, but Major League Baseball says fans will not be allowed in to watch.
The postponed games will be made up with a doubleheader in late May.
The Orioles are off Thursday.
The weekend series against the Rays has been shifted to Florida with the Orioles remaining the home team.
Yesterday's violence erupted after a funeral for 25-year old Freddie Gray, who suffered a spinal injury while in police custody.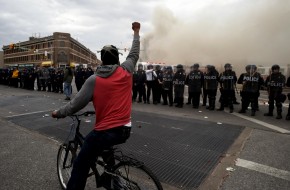 His twin sister Fredericka thinks the violence is wrong, adding she thinks her borther would also have disapproved.
At least 20 police officers were hurt – one critically.
Nearly 3 dozen young people and over 200 adults were taken into custody.
About 150 vehicles were set ablaze and dozens of stores and businesses were looted.
A woman, who struck and pushed a boy, is being hailed by the police commissioner and others online.
The commissioner says he wishes he had more parents taking charge of their kids.
The video, which has gone viral, shows the woman, presumably the mother, smacking him as others throw bricks, rocks and other objects at police.
Watch it here:
https://www.youtube.com/watch?v=dUS7GRlAnlM