Employees in Oshawa have known this day would come since 2012.
Today the other shoe dropped.
November 20 is when production of the Chevy Camaro will cease.
The move could spell the elimination of about 1,000 jobs.
Early retirement packages will be offered to about 2,100 of the approximately 3,600 employees.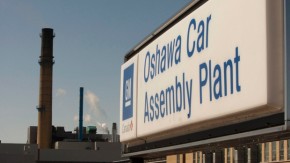 The announcement also means the Oshawa facility will drop to three shifts from four.
The flex line, where the Camaro's assembled, will drop to two shifts.
It'll keep turning out the Impala, Buick Regal and Cadillac XTS.
The neighbouring consolidated line will continue producing an older version of the Impala and Equinox crossovers.
GM's also increasing the size of its engineering workforce by 50% by hiring 100 engineers at its research and development centre in Oshawa.
Canadian Vice President David Paterson says the automaker's in Canada for the long term, pointing out the country is GM's fifth-largest market for sales and production.