Displaying fancier footwork than Argentine footballer Lionel Messi, the recently re-elected president of FIFA shocked the sport Tuesday announcing he'll be resigning.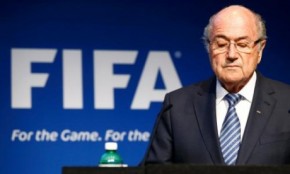 79-year old Sepp Blatter, who was voted to lead a fifth term last Friday, two days after the corruption scandal broke, told a hastily called news conference in Zurich, his re-election does not seem to have the support of most in and outside the sport.
Speaking through a translator he said, "although the members of FIFA have given me the new mandate … this mandate does not seem to be supported by everybody in the world of football — supporters, clubs, players, those who inspire life in football."
Blatter promises to call for a new election to choose his successor, saying "FIFA needs a profound restructuring."
That's expected to take place sometime between December and next March.