Saying he wants to ensure those whose job is to keep us safe have the necessary tools, Prime Minister Harper unveiled more anti-terror measures in Toronto Thursday.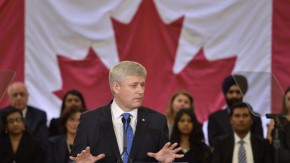 Our spy agency, the Canadian Security and Intelligence Service (CSIS) will get $137-million over five years then $41-million each year after that.=
The prime minister says, "CSIS will expand its ability to intercept terrorists planning acts of murder and terror on Canadian soil and to stop would-be jihadists attempting to travel abroad."
The Canada Revenue Agency will receive another $10-million over five years to tackle terror financing.
Harper says the government will not stand by while the money of "honest, hard-working" Canadians is used to pay for terrorist activities. 
"Therefore, the Revenue Agency will also increase resources … the resources used to identify and to shut down charities that finance terrorist activities."
Thirdly, all travellers who need a visa to get into Canada will now be required to go through biometric screening.
As the prime minister points out, "We'll make sure people are who they say they are.  Make sure the person who arrives in Canada is the same person who applied for the visa overseas because you can fake your name, you can fake your documents but you cannot fake your fingerprints."