Three weeks after a pair of convicted murderers escaped from an upstate New York maximum-security prison, one of them, Richard Matt, has been shot and killed by federal agents.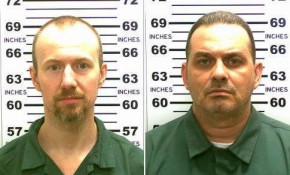 (David Sweat, left and Richard Matt)
The other fugitive, David Sweat, remains on the loose.
The shots rang out as authorities zeroed in on an area of remote terrain in Franklin County, near where officers found evidence in two hunting cabins that indicated the pair had been there.
Governor Andrew Cuomo says Matt and Sweat used power tools to saw through a steel cell wall and several steel steam pipes, knocked a hole through a 2-foot-thick, brick wall and squirmed through pipes to escape from Clinton Correctional Facility in Dannemora, near the Canadian border.
A civilian prison employee and corrections officer are accused of helping them escape back on June 6.