It appears Toronto's mayor is moving forward on the idea of a possible bid for the 2024 Olympic games.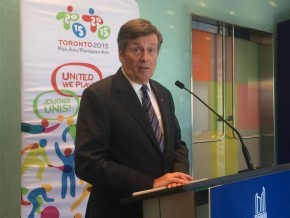 (John Tory has been an avid supporter of the Pan Am/Parapan Am games as he entertains the possibility of a bid for the 2024 Olympics)
John Tory's office has confirmed that the mayor had a private meeting yesterday at Toronto City Hall with both Marcel Aubut, the president of the Canadian Olympic Committee, along with Bob Richardson, the chief operating officer of Toronto's 2008 Olympic bid.
A written statement issued by the mayor's office says John Tory "was getting briefed on the changes to the bid process recently announced by the IOC (International Olympic Committee) as well as background on previous bid processes."  It goes on to say "this is part of the consultation and due diligence the mayor committed to undertake."
The statement adds that further conversations about a potential bid would take place only after the Parapan Am games are over.  Tory has previously said that a decision on a bid for the 2024 Olympics could not be made without extensive consultation with several stakeholders.