The latest shot in the battle against Canada Post's community mailboxes has been fired by Montreal Mayor Denis Coderre.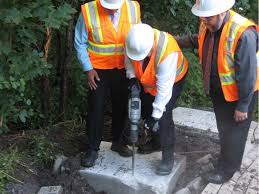 Coderre took a a jackhammer to the concrete slab foundation of a community mailbox in a Montreal nature park and then announced he'd be sending the cost of the damage to Canada Post.   The mayor was protesting what he says is a lack of consultation with the city as Canada Post moves from door-to-door service to community mailboxes.  Coderre says the community-mailbox placements go against Montreal urban planning procedures, and he is having non of it.
There have been similar incidents in places like Hamilton.
CARP – a new vision of aging – is on the record as opposing the community mail boxes arguing that some elderly Canadians won't be able to get to the boxes to collect their mail.