The toll of pedestrians and cyclists injured or killed by by vehicles in Toronto continues to rise with another cyclist hit just after midnight near Dundas and Parliament and a pedestrian injured on the Lakeshore Boulevard last night.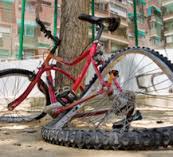 Toronto Mayor John Tory says the sheer number of dead and injured is completely unacceptable and he plans to address the problem at this week's council meeting with his road safety plan.  Among the items Tory is pushing; much more vivid pedestrian crossings, reconfiguring some roads and lowering speed limits.
Meantime, Ward 3 Councillor Stephen Holyday wants city staff to reconsider bicycle licenses as a means of raising funds to improve bicycle infrastructure.
Holyday's motion is expected before council this week.