Toronto's Ward 2 is still Ford Nation!
The nephew of the late city councillor and former mayor Rob Ford will soon take a seat at City Council.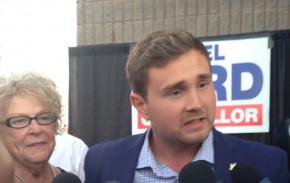 (Michael Ford seen here with his grandmother, Diane, after his win. Photo credit: CBC)
Michael Ford easily defeated 11 other candidates in yesterday's municipal by-election to become city councillor for Ward 2.
Ford opened a big lead early and finished with nearly 70 per cent of the vote compared with just over 20 per cent for second-place Jeff Canning, a small business owner.
Ford told supporters, he can't wait to get to work at city hall to follow through on his promises to reduce crime and deliver great customer service.
"When you call my office, I will be at the other end of the phone and I will be at your door to serve you, just like my great Uncle Doug has done and my Uncle Rob," the younger Ford told supporters.
The by-election was triggered after Rob Ford died in March from a rare and aggressive form of cancer.
Michael Ford joins Zoomer Radio's Fight Back with Libby Znaimer after today's noon news.