A Toronto police officer convicted of attempted murder in the shooting death of a troubled teen on an empty streetcar 3 years ago, is expected to learn his fate today.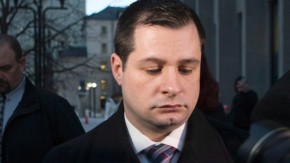 Constable James Forcillo is set to be sentenced this morning in the death of 18 year old Sammy Yatim, whose demise in July of 2013 was captured on smartphone video that went viral.
Forcillo was acquitted in January of second-degree murder, but found guilty of attempted murder for continuing to fire his gun at the dying teen after he had fallen to the floor of the streetcar.
The offence carries a mandatory minimum sentence of four or five years, but the officer has filed a constitutional appeal, arguing the mandatory minimum was never intended to apply to peace officers tasked with protecting society.
His lawyers are instead seeking a sentence of house arrest, while the Crown is asking for the officer to spend eight to 10 years in prison.