There's more research which shows that sitting is the new smoking.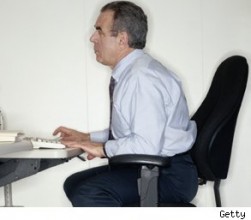 A study of more than one-million people has found a lack of exercise and sitting at a desk all day is as dangerous as smoking or being obese.
The research published in the journal Lancet shows that it takes about 60 to 75 minutes of "moderate intensity" exercise to undo the damage of sitting for at least eight hours a day.
However, the hour of exercise isn't enough to counter the damage caused by sitting in front of a television screen for an additional five hours, on top of the time spent sitting at work.
Scientists in Norway say too much sitting increases the risk of diabetes and heart disease, because it can slow the body's metabolism and make insulin levels spike.