It's been almost twenty years since the first Harry Potter book was released and the British Library plans to mark the occasion with an exhibition.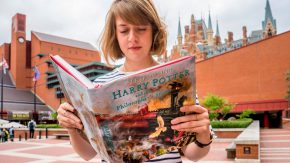 (British Library employee reading Philosopher's Stone. Image by Tony Antoniou)
The library announced today an exhibition dedicated to the boy wizard will be mounted next year, the 20th anniversary of Harry Potter and the Philosopher's Stone.
The novel titled Harry Potter and the Sorcerer's Stone in the U.S. was the first in J.K. Rowling's seven-book series, which spawned a film franchise, a theme park and a hit play that recently opened in London's West End.
The exhibition will include material from the archives of Rowling and publisher Bloomsbury, alongside centuries-old treasures from the British Library's collection.
It is due to run from October of 2017 to February of 2018.