The Toronto Blue Jays have been packing in the fans at Rogers Centre this season. In fact, it looks as though they are going to lead Major League Baseball's American League in attendance this season.
It would be the first time in 13 years that the New York Yankees will not hold that distinction.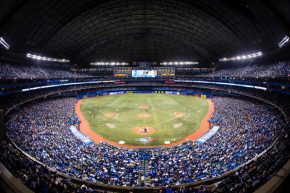 The Blue Jays average attendance is close to 40,400, ahead of the Yankees at just over 38,900.
Fans coming out of Rogers Centre last night told a reporter with CP24, it's all about the winning. The Jays are currently tied for first atop the American League East.
Ten years ago when the Jays were far from a winning team, the stadium, known then as SkyDome, would regularly be two-thirds empty.
Lower ticket prices also likely have something to do with high attendance. The Jays are at the league average for ticket prices, whereas the Yankees are over 40 percent more than the league average.