Another wave of Canada's Olympians thrilled the crowd of supporters at Pearson Airport this morning.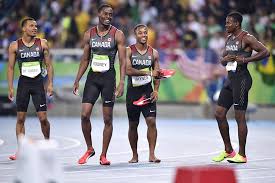 Members of the medal winning Canadian track team were first through customs with Markham's favourte son Andre De Grasse and thankful for Canada's support.
De Grasse won a silver and two bronze and has been compared with – and tagged as – the next Usain Bolt…
De Grasse told reporters he's looking forward to going home and enjoying his mom's home cooking.