Numerous historic buildings and landmarks across Canada and the U.S. will be bathed in light next week – in the colours of a cancer fundraiser.
Stand Up To Cancer will be broadcast in both countries on September 9th – and landmarks such as Niagara Falls and various city halls across the country will be illuminated in a combination of the fundraiser's signature colours: red, orange, yellow or white.
The CN Tower here in Toronto, St. John's city hall, the Calgary Tower, BC Place Stadium and the Peace Bridge connecting Fort Erie, Ontario and Buffalo, N.Y., are among the Canadian sites that are to be lit up.
American sites include the Helmsley Building in New York, the Wrigley Building in Chicago, and the Benjamin Franklin Bridge in Philadelphia.
–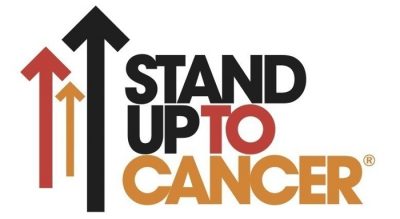 Our sister station JOY TV will join a number of Canadian channels airing the one hour special – which features Celine Dion, Ben Affleck and Emma Stone.
You'll find JOY TV on Rogers at Channel 173 .
Dion's husband and manager Rene Angelil died in January after a lengthy battle with cancer – and the superstar singer put her career on hold several times – to care for him.
Stand Up To Cancer is being executive produced by film star Bradley Cooper – who lost his father to lung cancer in 2011.
The charity behind the broadcast has raised more than US$370 million – since launching the fundraising project in 2008.