The company that owns the rights to Superman is refusing to allow the logo of the Man of Steel to be used on a memorial statue to a five-year old Toronto boy who was starved to death by his grandparents.
An Ottawa man named Todd Boyce raised money for a statue in memory of Jeffrey Baldwin after the inquest into his death. He commissioned Ruth Abernethy to create the memorial. Her work includes the sculpture of Glenn Gould that sits outside the CBC building on Front Street.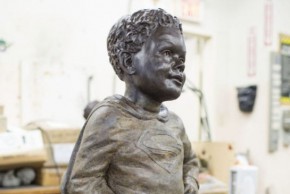 Abernethy decided to portray Jeffrey in a Superman costume, because the little boy loved the superhero. But DC comics won't allow use of the Superman logo.
Boyce says DC didn't want the Superman logo associated with child abuse.
Abernethy says she will change the "S" in the logo to a "J" for Jeffrey. Boyce hopes they will be able to unveil the statue in Greenwood Park in September.