One of the most important musical landmarks in New York City is the Brill Building.  Decades ago, a group of ambitious teenagers competed with each other to write the next million seller for Elvis, The Drifters, The Shirelles or The Righteous Brothers.
Micah Barnes first began singing these songs as a member of the Nylons.  He says it was years later, while he was living and writing in New York that these songs re-inspired him.  "I was sitting in a little writing room off of Times Square, just like those Brill Building writing rooms writing my new album called New York Stories which comes out in the new year," Barnes told AM 740's Happy Gang, "and I'm like, I'm being so influenced by New York right now.  Let me really pay attention to the life blood of the city, and that's like, writers trying to get ahead, singers trying to get ahead, find a good song and try to get over it!  And what ended up happening is, the tunes we chose for this show are the ones I felt that this group of people would be able to represent the most."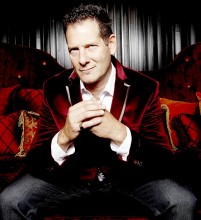 Micah Barnes is joined by Billy Newton Davis, Gavin Hope and Tyrone Gabriel in a concert celebrating the classic 60s hits of the Brill Building.  The show is called Stand By Me.  There are four performances at the Gravenhurst Opera House this month and another at the Stratford Summer Music Festival next month.
Click here for more info for the Gravenhurst Opera House concerts.  Click here for the Stratford show.