Bill Cosby is set to play the second of three Ontario shows tonight in London after receiving a standing ovation from his audience in Kitchener last night.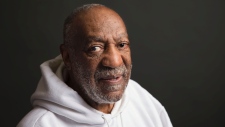 But a couple of dozen protesters braved the cold to express their opposition to the embattled comedian who faces mounting allegations of sexual abuse.
"I just stand firmly in support of victims," said one woman, "and I feel very strongly that these women were victimized and they need a voice and I am a voice for them."
Cosby appeared unfazed by the protest, which did not carry inside the Circle In The Square theatre.  He opened with a "thank you" and as he wrapped up his two-hour act, told the audience he "had a wonderful time."
The woman who played Cosby's wife on his long running television series The Cosby Show has offered her support to her former co-star.  Phylicia Rashad went on to clarify her comments during a television interview yesterday.
Listen here:
In recent weeks, a growing number of women have accused Bill Cosby of sexually assaulting them, with some allegations dating back decades.  Three more women went public yesterday.
Cosby has denied the allegations through his lawyer and has not been criminally charged.