An 11 year old Ontario First Nations girl who refused chemotherapy died yesterday.  On Sunday, Makayla Sault had a stroke, which her parents blamed on "irreversible damage to her heart and major organs" caused by chemotherapy.  She was diagnosed with acute lymphoblastic leukemia last January,  but after enduring harsh side effects decided to refuse chemo.  Makayla read a letter which was videotaped and posted on YouTube.  Click here to see it.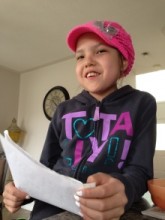 Makayla went to the Hippocrates Health Institute in West Palm Beach, Florida which believes in curing cancer with a positive attitude as well as eating a raw plant-based organic diet and clearing your life of contaminants.
Makayla is the first of two first nations girls who've refused chemo in favour of traditional treatments.  The second girl lives on the Six Nations reserve near Brantford and was taken of chemotherpy last August by her mother after two weeks of treatment. The parents of the girl, who cannot be named due to a publication ban, won a precedent setting court case in November when Ontario Court Justice Gethin Edward ruled that aboriginal parents have a constitutionally protected right to choose traditional forms of treatment for children.
Her family said last week she had tested negative for signs of cancer.