How much money did YOU save last year?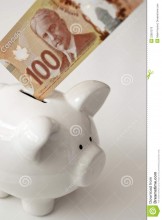 A new survey of Canadians found almost 20 per cent of respondents did not put aside any money in 2014 and a further 40 per cent felt they were not saving enough.
This year's household savings report from BMO Financial Group says just over 30 per cent of respondents had a fixed savings plan in place that included monthly contributions.
This is a significant increase from the previous year when just under 20 per cent reported implementing such a plan.
Money for vacations was the most common goal among savers, while 43 per cent were saving for retirement and 40 per cent for emergencies.
Over the last 10 years, Statistics Canada says the average household savings rate was just four per cent, down from 7.9 per cent in the 1990s.