Astronaut, author and soon to be recording artist.
Chris Hadfield's still-untitled record will be released this fall.
He recorded the vocal tracks with an acoustic guitar and computer while aboard the International Space Station during a five-month stay that ended in May 2013.
His rendition of David Bowie's "Space Oddity" went viral.
Here it is:
https://www.youtube.com/watch?v=KaOC9danxNo
He said in a release, "The serenity and grace I felt while orbiting our Earth, weightless by the window, gave a whole new place to write and perform music.  I'm delighted to be able to share these complete works as a new way to help tell the stories of early space exploration."
The 55-year old Hadfiel retired from the Canadian astronaut corps in July 2013, then appeared on the cover of Zoomer magazine's 5 year anniversary issue that November.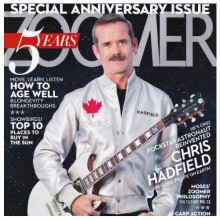 Producers of Hadfield's album promise it'll feature "special guests".