In a just released report that followed a two-year review, the Auditor General is urging "transformational change" to do away with a sense of entitlement in the upper chamber.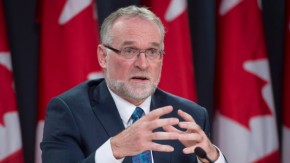 Michael Ferguson says senators should be policing their own spending and should give up oversight to an independent body.
After leaks in recent days that revealed 30 current and former senators were flagged for spending claims totalling almost $1-million, the auditor general discussed his findings.
He said he was "struck by the overall lack of transparency and accountability" exercised both by the institution and by some individual senators.
The report said "transformational change" is required to address the problems uncovered by the audit.  "Simply changing or adding to the existing rules will not be enough."
Senate Speaker Leo Housakos said the Senate embraces "wholeheartedly" the fundamental principle of accountability and will look at all recommendations and implement them "step-by-step going forward."
He adds the upper chamber's already begun doing so.
The audit cost taxpayers $23.5-million to go through more than 80,000 expense claims of 116 current and former senators, totalling $45-million.
Nine cases have been turned over to the RCMP.