The prime minister is losing another member of his inner circle.
Industry Minister James Moore is ending his 15-years in politics and will not seek re-election in order to spend more time with his family.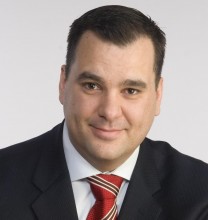 He released a statement, in which he said, "Balancing family responsibilities while in public life is always a challenge.  This is particularly true when you have a child with special needs."
The 39-year old Moore married Courtney Payne, a former adviser in Stephen Harper's office, in 2011.
They have a son who has a form of skeletal dysplasia that requires extensive care.
Moore's been industry minister since 2013 and before that was the minister of Canadian Heritage, responsible for the 2010 Winter Olympics.
He was first elected in 2000 and was among the earliest backers of Harper's bid for leadership of the Canadian Alliance and later Conservative parties.