Queen Elizabeth II has visited the site of the World War Two concentration camp at Bergen-Belsen, in Germany.
The camp was liberated by British soldiers in 1945.  Famous teenage diary writer Anne Frank and her sister Margo were among the thousands to die.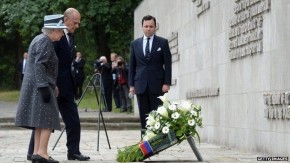 The 89 year old Queen and her 94 year old husband, Prince Philip, laid a wreath at a memorial there on the final day of her four-day state visit to Germany.
Some 50,000 prisoners, mostly Jews, from all over Europe were killed at Bergen-Belsen or died later as a result of their treatment by the Nazis in the camp.

Queen Elizabeth lived through the war as a teenager, and is now learning first-hand about some of the very worst atrocities of a former enemy.  She and Prince Philip passed the mounts that mark the 13 mass graves.  They contain the remains of more than 20,000 people.  There was no pomp or ceremony; just a couple from the wartime generation taking their time to reflect and pay their respects.
The Royal couple met a few of those who lived and three of the British soldiers who set them free.  The survivors and the liberators told them about their shared experience of horror.
"It's difficult to imagine isn't it," the Queen commented to one person at the end of the tour.