Ontario cabinet minister Brad Duguid is looking a lot lighter these days, as in 25 pounds lighter, and it's because he got lucky with an early warning heart attack back in April.
53 year old Duguid says after a long day at work on April 15th, he came home and made himself a salami sandwich. Soon after, he felt mildly uncomfortable, but shrugged it off. The next day, what he thought was indigestion flared up again and by the end of the day he found out at a walk in clinic that his blood pressure was high and an electrocardiogram showed something "amiss".
He was directed to Scarborough Hospital for blood tests, and found out he'd had a heart attack and that one of his arteries was 99 percent clogged with plaque and his main artery was 80 percent clogged. Duguid then had a total of six stents implanted to open the blockages.
He says it didn't register until days later, this could have had a very sudden, tragic and unexpected ending.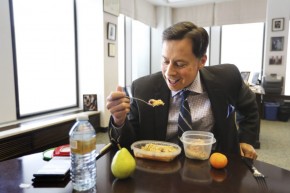 (Photo Credit: Toronto Star)
As for the weight loss, he didn't plan it, but the lifestyle change to a Mediterranean diet (chicken, fish , vegetables, fruits and nuts) prompted the weight loss and a change of life.
He also offers this advice, "if there's something I'm feeling that I've never felt before, that's a sign there's something wrong and you'd better check it out."