The runner-up in the Republican presidential primary is refusing to endorse the man who came out on top.
Texas Senator Ted Cruz undercut calls for party unity last night during his address to the Republican National Convention in Cleveland.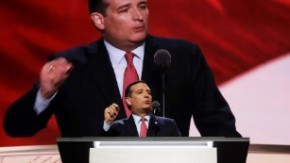 During his 20-minute speech, Cruz mentioned Republican nominee Donald Trump only in passing, and then had this message for November's presidential election:
"If you love our country and love your children as much as I know that you do, stand and speak and vote your conscience. Vote for candidates up and down the ticket who you trust to defend our freedom and to be faithful to the constitution," Cruz implored.
His remarks drew thunderous boos from the furious delegates in the crowd, but Trump himself tweeted that it was, "No big deal!"
But New Jersey Governor and Trump supporter Chris Christie was among many who were not happy about Cruz's comments.
"I think it was awful, and quite frankly, I think it was selfish and he signed a pledge and it's his job to keep his word," Christie said.
It didn't take long for Cruz's turn-of-phrase to become a Hillary Clinton campaign bonanza. Just before 11:30 last night, the Democratic nominee tweeted "Vote your conscience" with a link to a voter registration page.
Donald Trump will formally become the standard-bearer of the Republican party tonight, when he accepts the GOP nomination for president.